"yogamaatha, A girl with third eye. A 9 year old girl born with god gifted miracles who can sense and act even when she is blindfolded"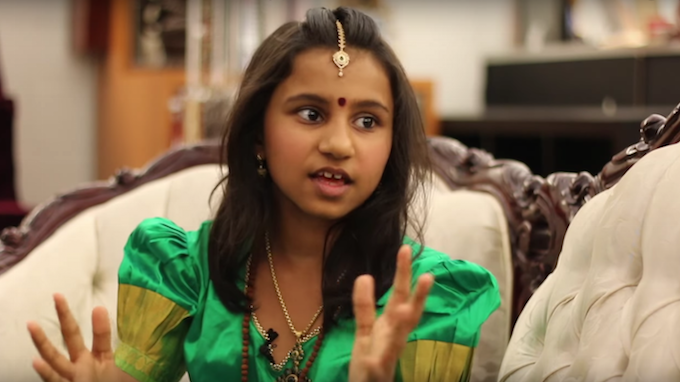 Image credit- lifedaily.com
Yogamaatha is a nine year old girl from North Carolina.She has a third eye where she can sense and act even when she is blind folded. Yogamaatha had attended a course at Gurukul in India where she was initiated by a Guru Nityananda.
He is known as one of the popular spiritual teachers in the world. According to him, third eye is an internal organ which everyone has it. Its course is of 21 days for $10,000. Yogamaatha says that this power is a learned ability. She can read, play games, draw while she is blindfolded.
She states that she can also ride a bicycle through traffic and dodge cars. She stunned audience of more than 50 high profile professionals attending the 2015 Business Advocacy Summit at Capitol Hill in Washington D.C. by reading aloud entire sections of articles, business cards, where she was double blindfold and eye pads were used to ensure that the readings were foolproof.
Checkout this video to know more about her 3rd eyes.