Mega constructions are a part of our world that's making our world more worthy and beautiful. May it be skyscrapers that are reaching new record of heights, huge tunnels that are establishing new transportation connections or bridges that are covering greater distances than ever before. Gigantic infrastructure projects are started and completed around the world. So,why not to have a look on few of them.
1. Panama Canal Expansion, Panama
It took a whole of 11 years to build Panama Canal Expansion. A total cost of $5.25 billion was spent on it.The expansion project was set to complete in 2016. It carves out a new 3.8-mile-long channel for new lock. This required 4.4 million cubic meters of concrete. Ships have grown a lot over the past century. So, there was a need that the world's most famous canal must do the same to keep pace.

2. Port Mann Bridge, Vancouver, B.C.
It was the widest bridge in the world until the Bay Bridge's east span. It took 6 years to build Port Mann Bridge. It's cost was around $1.93 billion.The bridge east of Vancouver, B.C., opened in 2012. It remains the second-longest bridge in North America. It uses 288 cables to reach a total bridge length of 6,866 feet.
3. Three Gorges Dam, China
It is the world's largest dam. We can't even guess the amount of concrete needed to construct this dam. It took 17 years for construction. The cost totaled to $22 billion. It is standing on China's Yangtze River. Talking about it's measurements, it measures 595 feet tall, 131 feet wide, and more than 7,600 feet long. It has 32 main turbines for producing electricity.
4. One World Trade Center, New York
It was completed in 7 years and a cost of$3.8 billion was spent on it's construction. It is the tallest building in the Western Hemisphere. It is 1,776 feet above New York City. It is a large steel structure. It also includes a concrete core that provides additional strength.

5. Aizhai Suspension Bridge, China
It is the world's highest bridge. It is also one of the world's longest suspension bridges. It is connecting two tunnels in China. It took 5 years to build this dam. It cost about $600 million. It was opened in 2012. This bridge sits 1,200 feet over the Dehang Canyon. It spans a tower-to-tower distance of 3,858 feet.
6. Marmaray Tunnel, Turkey
It was opened in 2013.It took nine years to build this tunnel. It cost a total of $4.5 billion. It is 47-mile long underwater railway tunnel. It connects the European and Asian sides of town. This tunnel gives Istanbul a new rail line into and out of the city.
7.FFR Grand Stade, Paris
It is a mobile stadium of Rugby federation of France. Imagine and put Retractable roofs and Retractable fields together and add 82,000 seats, this is the total of the giant stadium. It is located to the south of Paris. It took 4 years and a total of $552 million to build this stadium. It is one of the largest stadiums in all of Europe. And we can say it is one of the most moving too.

8. Jubail Industrial City, Saudi Arabia
It's construction was started in 1970s. It required plenty of logistical planning. It took 10 years to construct. A total of $11 billion was spent on it. This project is located in the Eastern Province of Saudi Arabia. It is a four-phase project. It is of 8 square miles. It includes eight blocks of industrial plants, four blocks of petrochemical industry, three blocks of support industries and four blocks of aluminum and other smelting plants.
9. Liuchonghe Bridge, China
It was opened in 2013. It has a 1,437-foot span,. It is the second-highest cable-stayed bridge in the world. It rises 1,100 feet above the Liuchonghe River. It has one of the river canyon's walls acting as a virtual cliff. There are two towers sitting above the canyon—one at 623 feet tall and the other 517 feet.
10. London Crossrail, London
It took 11 long years to build London Crossrail. A total of $23 billion was spent on it. It wrapped up 26 new miles of tunnel. It is a subway track. It connects 40 stations—including 10 completely new ones. It was build to improve transportation in England's largest city.

11. Hyderabad Metro Rail, India
With a long time of 14 years of construction and a huge amount of $2 billion Hyderabad Metro Rail system was built in India. It is a 46-mile light rail system. It will take all of the $2 billion-plus to create a new, elevated With initial phases nearing opening, will modernize an entire region. Elevated stations will appear every kilometer. These stations are expected to handle 15 million riders. The trains are arriving at stations every three to five minutes.
12.Hong Kong-Zhuhai-Macao Bridge, China
With a long time of 7 years and $10.6 billion of construction this bridge grabs 12th position in our list.This mega-infrastructure project includes a 16-mile bridge-to-tunnel structure. It's tunnel portion is spanning about four miles. Two artificial islands will connect Hong Kong and the mainland via a mega-crossing.
Be Smart Not Addicted Because Internet Addiction Can Be Poison For You
13. Songjiang Hotel, China
The waterfall is a key feature of this hotel. It was built into a 328-foot-tall quarry outside of Shanghai. The 19-story hotel will have the waterfall cascading down the middle and two hotel floors. It took 2 years and a total of almost $538 million for construction.
14. Russky Bridge, Russia
It became the world's longest cable-stayed bridge when it opened in 2012. It took 4 years to build. A total of $1 billion was spent on it. The total length is of over 10,000 feet. The 168 cable stays from its towers support the load of the bridge. The pylons that are standing more than 1,000 feet high anchor the cables. The longest cables stretch is nearly 2,000 feet.

15. Etihad Rail, United Arab Emirates
Rail may soon be the fastest and easiest way to get around the United Arab Emirates. It is a three-phased Etihad Rail project. It plans to connect 745 miles of new rail across the country to link with Saudi Arabia, Qatar, Oman, Bahrain, and Kuwait. It is a $11 billion construction.
16. Al Maktoum International Airport, Dubai
The original opening was in 2010 but it was not the final one. Al Maktoum received a $32 billion expansion set to last up to eight years. This allows 220 million passengers per year to fly out of the desert. The airport spread over 21 square miles. It accommodates 100 Airbus A380 aircraft's at any given time. The cost of construction was around $31 billion.
17. Beijing Daxing International Airport, China
This will be the home of the world's largest airport terminal, the gleaming Terminal 1. It is designed by Zaha Hadid. It was built to accommodate 100 million passengers per year. There are seven runways. There is 7.5 million square feet of the space. The airport's first phase should finish in 2018. The rest is slated to wrap up in 2025.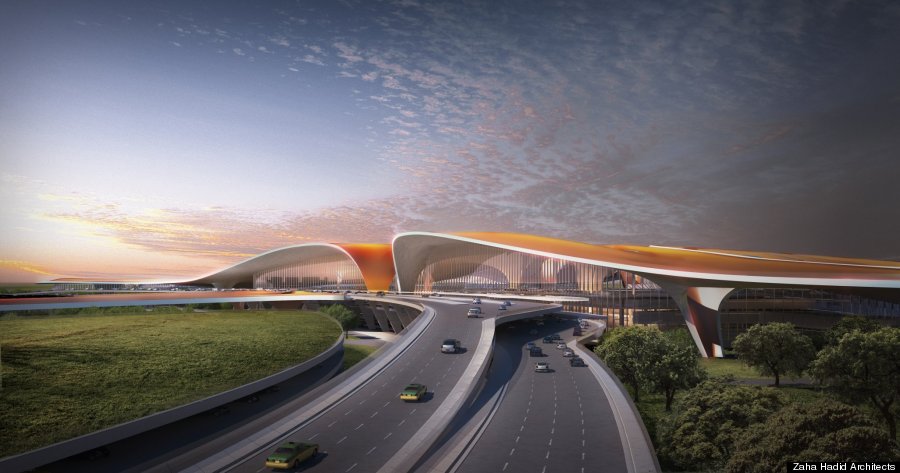 18. Bertha Tunnel-Boring Machine, Seattle
It took a total time period of 2 years to build and expenditure of $80 million. While Bertha hasn't moved forward. It was so since it got stuck underground in December 2013. The 7,000-ton, 326-foot-long machine needed even more robust power. It needed so to make it all the way under downtown Seattle.
19. New Century Global Centre, China
New Century Global Centre is the world's largest freestanding building in terms of floor space. It is of more than 18 million square feet. The structure includes multiple shopping malls, hotels, offices, theatres, theme-park-like attractions, and a water park. It took 3 years to build it.

20. Atlanta Falcons Stadium, Atlanta
It took around 3 years to construct and a grand total of $1.2 billion was spent on it. It is a football stadium. It's made of eight roof "petals". This creates a camera lens-like effect when the roof opens and closes. It's translucent panels are made of ETFE fabric. These allow light into the stadium even when they're closed. The roof will take eight minutes to open.
Well, huge amounts are spent on these multiple mega projects but all in all, what we get is worth.