Lavishing homes, latest cars, and foreign vacations are a part and parcel of life of a starkid. Usually these star kids
believe in working hard and partying harder. Our young star children, like Aryan, Suhana Khan etc are party animals. They love to catch up and enjoy with their friends.
B-town is a dream for almost every young individual. People strive hard to be a part of this lavishing world. But there are few who already are part of it without any rush or hush. These are the star kids who have made their place in bollywood due to their god fathers.
They are not only known for being star kids but are well known for their grand parties and celebrations. Be it a birthdays or holidays these celebrity kids leave no opportunities. From Aryan Khan to Jhanvi Kapoor all have been in headlines because of the grand parties.
Let us have a look on some of our naughty and lively star kids.
1. Suhana Khan


Suhana Khan is Shah Rukh Khan's daughter. She is growing into a beautiful young lady. Suhana was spotted celebrating New Year's Eve. She was with her close friends. It was the occasion of Ahaan Pandey's birthday , actor Chunkey Pandey's nephew.Suhana looked beautiful in a monochrome dress. Sanjay Kapoor's daughter Shanaya Kapoor and Chunky Pandey's daughter Ananya Pandey were a part of the party. Suhana seemed to enjoy every moment spent with her friends.
2. Aryan Khan
King khan's youngest one is believed to be his carbon copy. He very much resembles King Khan. No doubt, why he has such a huge fan following . He too has a huge fan following on social networking sites. Aryan graduated from school. He has been partying with his buddies ever since. He and Suhana has been seen in many parties enjoying to the fullest. One of them was his birthday bash in which he was seen enjoying Navya Naveli Nanda's company and the duo had some candid pictures too.
3. Alia Bhatt
Madam Bhatt needs no introduction still she is the daughter of Mahesh Bhatta and one of the cutest Bollywood actresses. Her good work is making her presence felt through box office collections. She is seen attending b-town parties and even partying with her friends. She is renowned and well-known actress. She is also a great singer. This beautiful diva can be seen most stunningly dressed up in every other party . She has her different set of friends. She definitely deserves to be in the list of the party animals.
4. Jhanvi Kapoor
Sridevi's daughter Jhanvi Kapoor is almost a superstar already. She has not stepped in bollywood but yes the time is not too far. With media following her every move, she surely the upcoming superstar of Bollywood. Jhanvi is in lime light for her fashion sense and parties (in which she is usually accompanied by her rumored boyfriend). Jhanvi's partying habits and her high profile friends show the posh life her parents have provided her. She doesn't move out without a designer handbag. Her dresses are just out of the world expensive.
5.Shanaya Kapoor
Shanaya is Sanjay Kapoor's eldest daughter. She is hitting the party scene. She has posted a number of pictures with her boyfriend Rohan Kurup.
She surely has the Kapoor charm. She hangs out with Jhanvi Kapoor a lot ans seldomly seen partying with her. Shanaya is a party freak and seen seldomly partying with her friends. At new years eve, she was seen partying with Shahrukh's daughter Suhana Khan and Deanne Panday's son Ahaan.
6. Sara Ali Khan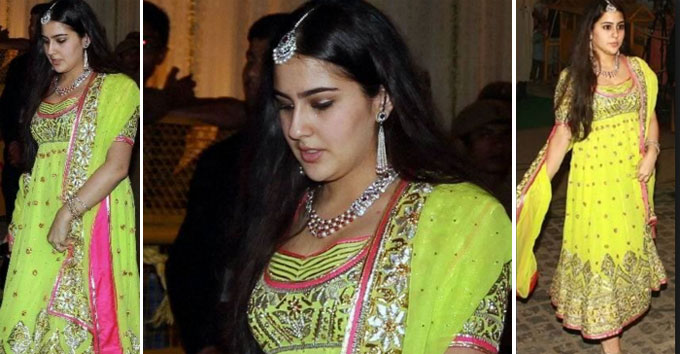 Saif ali Khan's daughter Sara will soon make her debut in the film industry. He is seldomly spotted partying with her friends and rumoured boyfriend. She recently was spotted partying with her rumored bf in a plush club in Mumbai.
Going by the pictures it seems she had a great time . She is dating Veer Pahariya, the grandson of former Union Minister Sushil Kumar Shinde. Sara and Veer have been attending several parties together. She was also seen partying with Navya Naveli in Manhattan.
7. Sonam Kapoor
Ms. Kapoor is a style Diva for Bollywood. She is the daughter of actor Anil Kapoor. She can be seen in many parties. As for this she is next in the list for being the party animal. Her remarkable style and personality can be seen in the parties. She wears some of the most stylish dresses. She always try new looks. She is also successful every time in introducing something new to the world. Sonam can be seen partying with her friends seldomly and is also present at almost every big fat b-town parties.
World top 20 Mega Projects beyond your imagination
8. Krishna Shroff
Jackie Shroff's teenage daughter is quite a hottie. She keeps making stunning avatars. The lady is quite active on social media. She keeps sharing an array of her hot pictures. Apart from this she is also a party freak.
This can be seen from her pics. Recently she shared the one in which she is seen having a gala time at a pool party. She is usually seen hanging out with her Brazilian boyfriend.
9. Navya Naveli Nanda
Aryan Khan and Navya Naveli Nanda graduated from the Sevenoaks school in London. Post their graduation, the star kids headed to the serene island of Phuket. This is in Thailand. They went their for a holiday. They were accompanied by their close friends. The duo then took off for a yacht trip. Apart from this Navya is seen partying out with friends many times and remain in headlines for her partying habits. These star kids seem to enjoy these parties alot.
10.Shraddha Kapoor
One of the most loved star kid turning up to b-town is Shraddha Kapoor. Unlike her father Shakti Kapoor who was mostly seen in villain's role in movies, Shraddha is leading the films of bollywood. Apart from her professional life, she is very active in her private life too. She is seen partying with her friends at different times. Recently her hair stylist and good friend Amit Thakur celebrated his birthday on the sets of Half Girlfriend. It was also like a mini reunion of the Half Girlfriend team.
11.Ibrahim Khan
Saif Ali Khan's son Ibrahim Khan is next on our list. He is now grown into a handsome young boy. He is seen partying with Shahrukh's son Aryan Khan, Ibrahim Khan along with many other star kids. Recently Ibrahim spent one of his Sunday with Akshay Kumar's son Aarav Bhatia. They both watched a movie. Aarav's grandmother Dimple Kapadia accompanied them to cinema. Ibrahim has often shares his pictures on Instagram. He already has a huge fan following. He is also seen attending events. Recently, he attended an event with his mother Amrita Singh.
12. Aarav Bhatia
He is the loving son of actor Akshay Kumar. It can be said that Akshay Kumar and Saif Ali Khan are going to face some serious competition within their home, as their sons turning are out to be handsome hunks. Aarav Bhatia is grabbing all the eyeballs.
He was recently spotted partying with the biggies of Bollywood. Aarav was seen with his grandmother, Dimple Kapadia. He was captured in one frame with biggies like Tabu, Dimple, Amrita. He was recently spotted at a night out with his rumored girlfriend.
13. Trishala Dutt
Trishala Dutt turned out to be quite a head-turner. She is the first born of actor Sanjay Dutt. She is rocking the social sites eith her party pictures. Trishala was spotted partying with a friend. She was happy after Armin Van Buuren concert at Madison Square garden in New York. Her craziness for friends and parties gave her place in our list.
14. Khushi Kapoor
Among the most talked-about celebrity children are Sridevi's daughters Jhanvi and Khushi. The young ladies are noticed for everything. What they wear, where they go everything is making headlines of b-town gossip. Like her younger sister, Khushi is also seen partying with her friends. Internet was filled with her latest party pictures. From dancing to clicking crazy selfies, Khushi seemed to totally enjoy time with her friends.
15. Arjun Kapoor
The handsome hunk star kid Arjun Kapoor is turning as favorite actor of many. His amazing acting skills and personality has taken away hearts. He too grabbed a place in our list due to his partying habits. A major birthday bash was thrown on his 30th birthday at the Trident Hotel. Many stars like Jacqueline, Sonam, Varun Dhawan were part of the gathering. Jackie, posted a special birthday wish for him with Varun Dhawan and Rohit Dhawan.