Women is an all rounder in herself. She is a mother, a guide and now other then all the roles, she is an economy maker. She has all the powers and can now bring revolutionary changes in the economy. Women nowadays hold different occupations that gives them great authority and responsibility. Earlier power and powerful positions were associated with men, but now women has changed the scenario.
As gender equality increased, women held more and more powerful positions. Appropriate representation of women in social systems is important for its long-lasting success. From small scale industries, unofficial groups or clubs, to the leaders of nations or CEOs of companies, women has left her mark in every field.
Women account for half of world's talent base. Their participation in the workforce greatly affect productivity. Like, we have list of richest men in the world, our ladies are never behind. So, here's list of worlds 20 richest women:
1. Liliane Bettencourt
Not many of us are familiar with Liliane Bettencourt, but we are probably familiar with the reason behind her name in the list of worlds most richest women. She is one of the biggest shareholders in L'Oreal.  Bettencourt built her $36.1 billion fortune. Her father was the founder of the company. He put her to work at the age of 15. She used to mix shampoos and other cosmetic products. She married Andre Bettencourt in the 1950s. She is presently of 93 years and lives in Paris.
2. Alice Walton
Alice Walton is one of the heirs to the vast Wal-Mart fortune. She is owner of$32.3 billion. She is known as the biggest philanthropist in her family. She has given billions to charity. She has been using her wealth to support educational reforms  She's also a well-known art collector. She purchased her first piece of art at the age of 10. Her professional career includes :broker for an investment firm and equity analyst for First Commerce Corporation.
3.Jacqueline Mars
Almost each one of us ever had Milky Way, a pack of M&M's, or a Snicker's bar If, right? Well, than we should thank Mars family for this. The candy empire has earned immense for the family over the years.Jacqueline Mars is the daughter and granddaughter of the company's founders. It has let her $23.4 billion. She, with her brothers, look after their candy company. This brought in more than $33 billion in sales.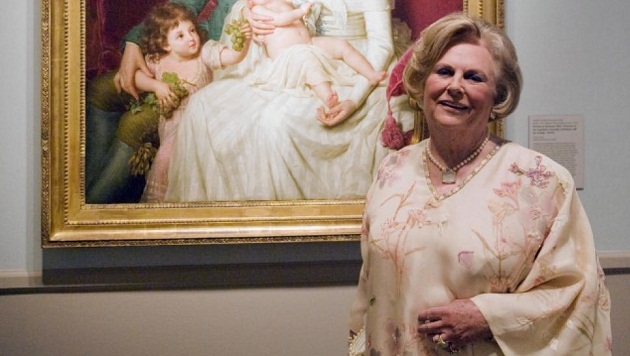 4.Maria Franca Fissolo
Nutella is undoubtedly the most loved item. And if you too love Nutella, you can thank Maria Franca Fissolo's family.
Nutella is made by Fissolo's company. Fissolo is the widow Michele Ferrero, who was the owner of the world's second-biggest confectionery company, Ferraro Spa. Fissolo is added to the list as she controls $22.1 billion. She is 98 years old now.
5. Susanne Klatten
Susanne Klatten is the daughter of , Johanna Quandt. Both daughter and mother secured a place in the list of worlds richest women.Klatten is the richest woman in Germany. She owns almost half of BMW along with her brother and mother. Her net worth this year is estimated at $18.5 billion. Klatten also has an impressive academic and business track record. She earned business degrees and became a trained economist. According to publication, she has even worked under an alternate name. This was so that her family's wealth wouldn't get in the way of her professional career.
6. Laurene Powell Jobs
Laurene Powell Jobs is the widow of Apple founder Steve Jobs. Laurene Powell gets a place in iur list with a fortune worth $16.7 billion. Jobs is incredibly well-educated. She received degrees from both the University of Pennsylvania and Stanford University. She has also put her entrepreneurial skills to work by founding Emerson Collective and College Track. Both of these work toward bettering education. She is also the largest single shareholder of Disney stock. It has helped boost her net worth considerably.
7. Abigail Johnson
Abigail Johnson is the president and CEO at Fidelity Investments . Her estimated net worth is more than $13.1 billion. Her company oversees more than $1.6 trillion in investment funds. Her father served as Fidelity's CEO before her.She took an analyst position with the company way back in 1988. She then kept climbing in rank until she took over the company.
8. Charlene de Carvalho-Heineken
Charlene de Carvalho-Heineken step up to 8th position in our list. She is the 8th most richest women of the world. Carvalho-Heineken  is the owner of Heineken company . It is the world's third-largest brewing company. As per the information she is the owner of $12.3 billion.
9. Iris Fontbona
She was married to Chilean mining magnate Andrónico Luksic. He died in 2005. Being his widow, all his business was left to Iris Fontbona. She continued the business and earned massive amounts of wealth. With $10.1 billion, Iris Fontbona has secured her place among the 10 richest women in the world.
10. Massimiliana Landini Aleotti
Massimiliana Landini Aleotti is one of the most richest women of the world. She owns the pharmaceutical company. Menarini is one of the largest pharmaceutical company. She helds the company along with her children. Aleotti is one of the world's richest women. She owns $10.1 billion.
11. Blair Parry-Okeden
Blair Parry-Okedon is born in Hawaii. She is living in Australia. She is the richest person on the continent. She made her fortune by inheriting Cox Enterprises. She inherits 25% of Cox Enterprises. It is an American media company. She is owner of $9.7 billion.
12. Gina Rinehart
Gina Rinehart is an Australian mining heiress. She is the richest native-born individual on her continent. She is the owner of $8.8 billion.  Her father discovered rich iron and coal deposits in parts of Australia. He build mines to extract them and become immensely wealthy. Rinehart has used her inheritance to buy up media companies. She has been involved in many areas of Australian politics.
13. Margarita Louis-Dreyfus
Her name is reminds us of a famous actress. She is Russian by birth. She is a businesswoman. Margarita Louis-Dreyfus is owner of $6.8 billion. The Russian-born Louis-Dreyfus is serving as chairman of Louis Dreyfus. She is also the owner of Olympique de Marseille football team.
14. Sandra Ortega Mera
She is a Spanish woman. She is the heiress of Amancio Ortega Gaona. Amancio Ortega Gaona is the founder of Inditex. After his death, she inherited a portion of the company. This brought with it huge amounts of money.She's worth $6.4 billion.
Life of a Hostler: A war which we don't want to forget lifetime
15. Katharine Rayner
She is another billionaire media heiress. Katharine Rayner's fortune is worth $6.4 billion. She is also one of the beneficiaries of the Cox Enterprises fortune.
16. Eva Gonda de Rivera
She is a Mexican businesswoman. She has $6.1 billion in the bank. Due to this Eva Gonda de Rivera ranks among the world's richest women. She is stakeholder in FEMSA. FEMSA is a beverage company. Her money is made from her stake in the FEMSA beverage company. FEMSA bottles and sells soft drinks throughout Mexico and Central America.
17. Zhou Qunfei
Zhou Qunfei is the founder of Lens Technology. Lens Technology builds touchscreen technologies for use with smartphones and computers. She owns a$5.9 billion portfolio. She is of 46-years. She lives in a $28 million house and estate, which is only a part of her total empire.
18. Antonia Johnson
Antonia Johnson third-richest Swede on Forbes's list. Her grandfather founded Axel Johnson AB. He founded it 150 years earlier. She has assets of  $5.7 billion which are coming from her stake in the company.
19. Pauline MacMillan Keinath
Pauline MacMillan Keinath is great-granddaughter of founder of Cargill.
She is his heiress. The company produces a lot  wealth. And one of the beneficiaries of that wealth is Pauline MacMillan Keinath. She is owner of $5.7 billion. She owns a 9% stake in the business.
20. Maria Asuncion Aramburuzabala
She is 53-year-old businesswoman. Maria Asuncion Aramburuzabala roughly owns $5.5 billion. She is the chair of Tresalia Capital. Her wealth's origins come from her family's holdings in beverage and beer companies in Mexico.
The list above shows the increasing impact of women in the economy. After reading this who can put a question mark on abilities of women. These ladies are truely idols for young girls and women who think themselves of no worth. And also a shut down to people who think women cannot be at equal state as men.